Joe Marler: England 'fearful' of risk after 'terrible' news from Ryan Jones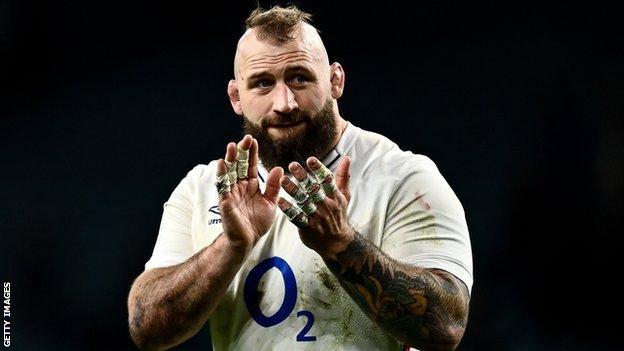 England property master Joe Marler says he once forgot he was a father after suffering a head injury during a game.
The 83-cap Englishman recalled a "big hit" in a match that knocked him out.
"I was cold and I remember being in the physio room next and the equipment guy came in. I just broke down and had no memory of having kids," he said.
Speaking to TalkSport, Marler added, "It really scared me."
Harlequins veteran Marler was knocked unconscious by the hip of England team-mate Billy Vunipola during his side's Premiership win over Saracens in September 2016.
Jones was told he had a severe case of probable chronic traumatic encephalopathy (CTE) in December 2021 and he has joined a lawsuit against rugby union governing bodies, led by figures including England world champion Steve Thompson and the former Welsh International player Alix Popham.
Three-time Six Nations winner Marler said his wife urged him to stick to concussion protocols, adding: "It's horrible for Ryan to find out and go through this.
"To be honest I just stuck my head in the sand because it scares me. I just ignore it and stick my head in the sand.
"But the more it gets out there and the more obvious it becomes in sports, the more boys are being diagnosed with this stuff. It is sad.
"There's always going to be that element of danger and you don't want to remove it so it's not rugby anymore.
"But you want to be well-informed if you're going into it. As long as I am informed about the dangers, I can make an informed decision."