Isle of Man TT: Roger and Bradley Stockton die in sidecar crash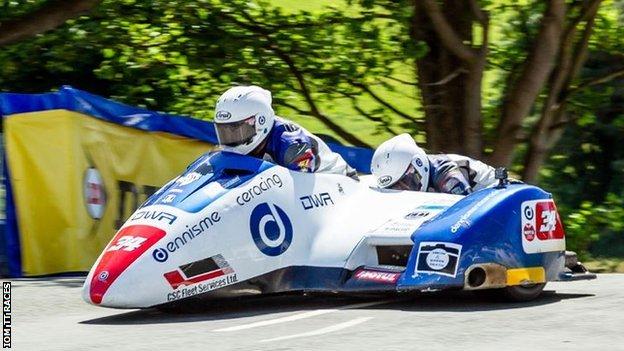 Father and son Roger and Bradley Stockton have been killed in a crash during racing at the Isle of Man TT, organizers have confirmed.
The pair from Crewe both died as the result of the incident at Ago's Leap during the second lap of the second sidecar race on Friday.
Passenger Bradley, 21, was a newcomer to the event, while his father Roger, 56, last competed at the TT in 2017.
Five riders have now died at this year's event.
In a statement, organizers said it was "with a deep sense of sorrow" that they could confirm both racers were "killed in an incident on the second and final lap of the second sidecar race".
"The Isle of Man TT Races pass on their deepest sympathy to Roger and Bradley's families, loved ones, and friends," it added.
The pair secured an eighth-place finish in the first sidecar race of the 2022 event on Monday.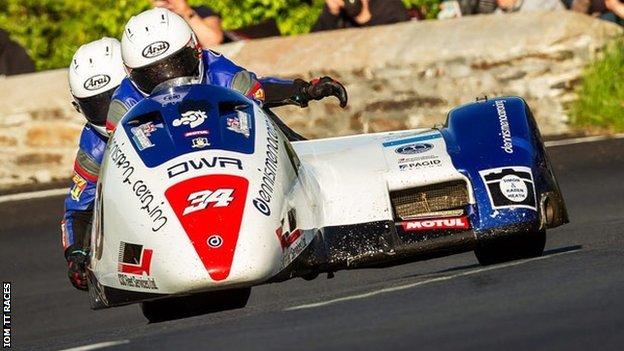 Following the incident, organizers said the remainder of the day's racing had been called off due to deteriorating weather conditions.
The six-lap Senior TT will now be held at 11:00 BST on Saturday.
Three other competitors have died at the 2022 TT which returned after a two-year hiatus due to the Covid-19 pandemic.
sidecar driver Cesar Chanal died in a crash one of the first sidecar race on Saturday, while Northern Ireland's Davy Mark suffered fatal injuries in the Superport race on Monday, and Welsh rider Purslow was killed in qualifying last week.