French Open: Rafael Nadal won't play Wimbledon if he needs foot injections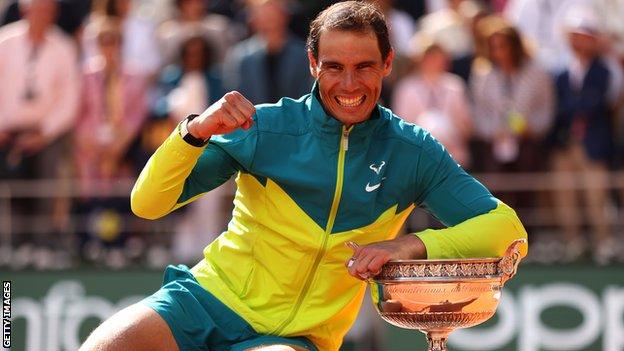 French Open champion Rafael Nadal says he "doesn't want to keep playing" if he continues to need anaesthetic injections to numb chronic foot pain.
Nadal, 36, won his record-extending 14th title at Roland Garros having "no feeling" in his left foot.
The Spaniard had multiple injections during a tournament where he won a 22nd Grand Slam title on Sunday.
"It's obvious with the circumstances that I am playing, I can't and I don't want to keep going," said Nadal.
The two-time Wimbledon champion says he would not play at the All England Club, where the grass-court major starts on 27 June, if a nerve-burning treatment next week cannot solve the issue.
Nadal suffers from Mueller-Weiss syndrome – a rare degenerative condition that affects bones in the feet – and was limping at the Italian Open just 10 days before Roland Garros began.
"I have been playing with injections on the nerves to numb the foot and that's why I was able to play during these two weeks," Nadal said after his 6-3 6-3 6-1 victory over Casper Ruud.
"I have no feelings in my foot, because my doctor was able to put anaesthetic injections on the nerves. That takes out the feeling on my foot."
He added: "I'm going to be in Wimbledon if my body is ready to be in Wimbledon. That's it. Wimbledon is not a tournament that I want to miss. I think nobody wants to miss Wimbledon. I love Wimbledon.
"If I am able to play with anti-inflammatories, yes; to play with anaesthetic injections, no. I don't want to put myself in that position again."
Nadal said he would soon have radiofrequency ablation – which uses heat on the nerve to quell long-term pain – but would have to consider surgery if that treatment did not provide a sufficient solution.
"If that works, I am going to keep going. If that doesn't work, then it is going to be another story," he said.
"Then I will have to ask myself if I am ready to do a major surgery that doesn't guarantee me to be able to be competitive again and could take a long time to be back."
Injections 'only chance' to let Nadal play in Paris
Last year, Nadal feared his career was over because of the condition and cut short his season last year, including missing Wimbledon and the US Open, to deal with the problem.
A stress fracture of the rib also caused him to miss two months of the season shortly after his 21st major win at the Australian Open.
"As everyone knows in the world of tennis, my preparation was not ideal," Nadal said.
"But Roland Garros is Roland Garros. Everybody knows how much this tournament means to me, so I wanted to keep trying and to give myself a chance here.
"That's was the only way to give myself a chance here. So I did it."
Speaking on court, Nadal said he never thought he would still be competing at the highest level at his age.
"I never believed I would be here at 36, playing in the most important court of my career one more time in a final," he added.
"I don't know what can happen in the future, but I'm going to keep fighting to try to keep going."
'What Nadal has achieved is super human'
Two days after his 36th birthday, Nadal has claimed back-to-back major titles for the first time since 2010 – when he won the French Open, Wimbledon and US Open in a row.
"To start the year by winning the Australian Open and French Open, it is astonishing," said former British number one Greg Rusedski, who was working as a BBC Radio 5 Live analyst for Sunday's final.
"In my generation, anything over 30 was bonus time and if you won a Slam over 30 it was a heck of an accomplishment. Now it seems the norm because of Nadal, [Roger] Federer and [Novak] Djokovic.
"When we first see Nadal come on the scene here in 2005, when he won for the first time, most of us thought he would be retired by the age of 27 or 28 with the physicality he plays with.
"We didn't think he would be capable to achieve what he has achieved. What he has achieved is super human.
"We will never see anybody in our lifetime achieve what he has achieved on a clay court. It is not possible."
'Statue is not enough' – tennis and sporting world hail Nadal
Nadal already has a statue outside Court Philippe Chatrier – the site of his French Open wins – but Croatian former player Ivan Ljubicic said the stadium should be renamed.
Nadal's achievements were also recognized by Spanish football club Real Madrid – who Nadal supports – and India cricket great Sachin Tendulkar.