Dutch Grand Prix: Lewis Hamilton says Mercedes "finally feels alive" after a strong qualifying session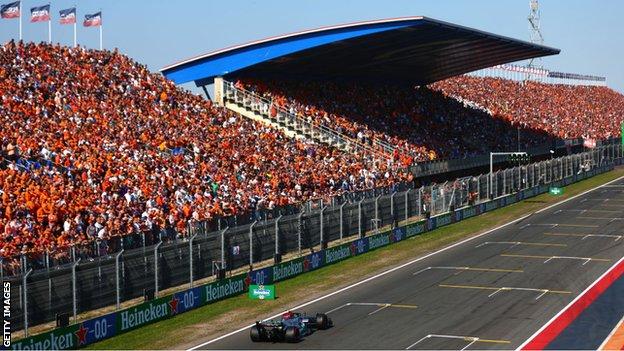 Lewis Hamilton said his unruly Mercedes car "finally felt alive" in a Dutch Grand Prix qualifying session that brought both frustration and promise for the seven-time champion.
A week after qualifying, two seconds down in Belgium, Hamilton believed a yellow flag at the end of qualifying robbed him of his chance to fight for a front row spot at Zandvoort.
Starting fourth behind Red Bull's Max Verstappen and the Ferraris of Charles Leclerc and Carlos Sainz, he is optimistic that the Mercedes' increased race pace could allow him to fight at the front of the field in Grands Prix.
"I'm feeling really good," Hamilton said. "We somehow closed the gap over one lap. I really can't understand why.
"But I hope that will bring us closer in the race and if we were that would be fantastic. If we can fight with those three in front of me it would be a great experience."
Hamilton was just 0.192s off Leclerc's provisional pole time after the first laps of final qualifying and improved on his final lap when Verstappen's teammate Sergio Perez spun in the final corner.
The Briton had to back down in front of the yellow warning flags and his lap was ruined. He finished just 0.306s from pole, although Verstappen and Leclerc both improved on their final laps.
In percentage terms, it was by far Mercedes' most competitive performance of the season, apart from teammate George Russell's pole position in Hungary, which came about due to unique circumstances on a drying track.
"I fought for it," Hamilton said. "It was really such a positive feeling coming off a difficult weekend and a difficult result, the car just changed completely this weekend because of the different type of track.
"And fighting with just 0.1 seconds between us and a Red Bull felt a lot like last year's good times. I was really hoping that I could make just that small difference and possibly get ahead.
"In the end I was up there [on my previous time]. Whether it was enough for pole, probably not, but definitely a fight for the front row.
"Either way, we're close and I'm hoping that we can race against these guys.
"As we have seen in the past, it is a difficult race to overtake, but we have nothing to lose. We have to give everything tomorrow."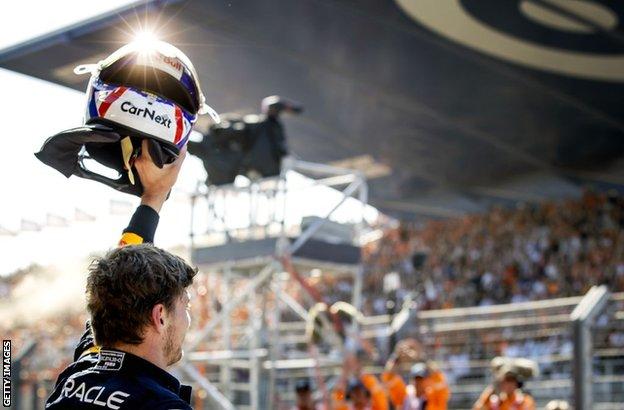 In the race, the Mercedes is usually faster than the Red Bulls and Ferraris than in qualifying because it protects its tires and keeps them in good shape longer than the frontrunners.
"When our delta goes from one lap to race pace [difference] Since we usually have transfers after tomorrow, we could be in a good place," Hamilton said. "We will see. And then it comes down to strategy and things like that.
"I don't think there will necessarily be overtaking maneuvers on the track. I'll just keep hoping. I want to see the end of the race this time. It sucks not to see the end of the race."
Hamilton crashed on the first lap at Spa last weekend after misjudging a pass on Alpine's Fernando Alonso.
In Belgium, the Mercedes was slow because the team had to raise its ride height to prevent it from hitting the ground at two key points on the track. That meant it was running too high to produce its optimal downforce.
In Zandvoort, on the other hand, they can drive it at the optimum ride height to generate downforce. And the rough track surface allowed Mercedes to overcome another weakness that has plagued them this year – the difficulty of reaching the optimal tire temperature for a fast lap.
Hamilton said: "I think they were still too quick for us if I'm really honest, but I think we would have been fighting for the front row. Third at least. But we were very close to the front row, so lots of positives ." to take from it."
Hamilton likened the Mercedes' unpredictability to human relationships.
"It has a human quality," he said. "You come [to the track] so hopeful, and then it's like, 'No, I don't want to go fast.' And then another time it's like, 'Okay, I'm down.'
"You don't know which side of the bed you're going to catch that car on.
Russell qualified sixth, also denied a final round by Perez's error, but admitted the best he could have done was to beat the Mexican to fifth.
"It's a lot more satisfying to be within reach of a great result," Russell said. "But in the end we're still a few tenths of a qualifying performance short
"I think there was still a little more potential [for me]. Lewis did a great job. It was a good lap. Not good enough to fight at the front. Probably P5 just behind Lewis."
Encouragement for Leclerc and Ferrari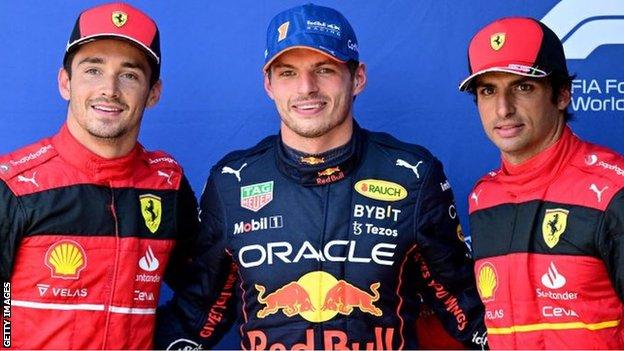 After a difficult series of races that effectively left Verstappen out of touch in the championship, Leclerc said he was relieved to be back in contention for pole with his title rival.
He said a mistake on his final qualifying lap at Turn 10, when he went in too fast and went too far, likely denied him pole.
"The lap was in the car and I just couldn't do everything. But still happy because it's four or five races now that I'm not very happy with the result in qualifying.
"I have a bit more front end [grip]which I've been struggling with for a few races now.
"In the race we always seem to find the right balance, but in qualifying we struggle quite a bit. Carlos and I start right behind Max, so hopefully that can help a bit."
Verstappen recovered well after losing an entire session on Friday due to reliability issues and looked extremely strong throughout qualifying until the Ferraris caught up in the top 10 shootout.
Verstappen said the characteristics of Zandvoort, which rewards a high downforce setup compared to the high-speed Spa where he smashed the field, brought Red Bull back to the rest of the field.
"We have a complete car," he said. "But you can see how quickly that changes, because we were dominant in Spa. It looked a bit difficult here at first and it was tight in qualifying. We struggle to get the best out of the car on the high downforce tracks, but it's still a fast car.
"I think it's going to be tight [with Ferrari] but I'm looking forward to it and I hope we have a good race."
Beacon launcher "stupid" – Verstappen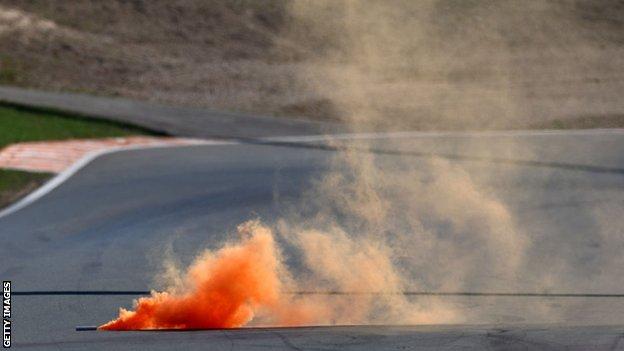 Verstappen was cheered by a capacity of 105,000 orange-clad Dutch fans throughout the weekend.
But enthusiasm got the better of one of them in qualifying when a flare was thrown onto the track, causing qualifying to be delayed.
Verstappen said he appreciated the support of his home fans but called the actions of the person who threw the flare "stupid", adding: "You get kicked out and you don't get to see the race."
The fan was identified and thrown off the track, F1 said.