Covid UK: Top symptom in patients revealed by new data as cases surge in England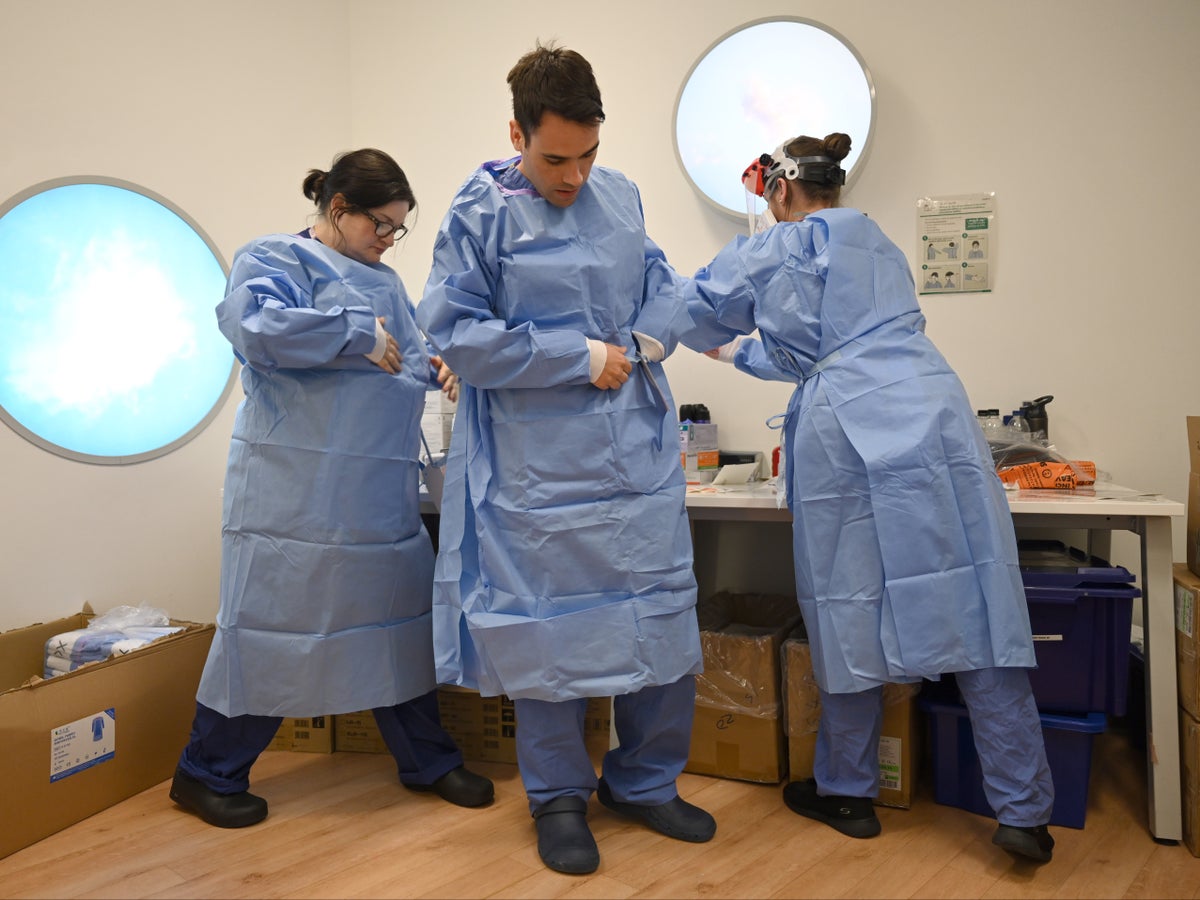 covid-19 UK infections are up by around 400,000, with the ongoing surge still being driven by the latest Omicron variants BA.4 and BA..
The number of hospitals is also increasing, with early signs of an increase in ICU admissions among older age groups.
It is estimated that in the week ended June 29, a total of 2.7 million people lived in homes, according to the latest Office for National Statistics (ONS). There were around 2.3million cases across the UK in the previous week.
This is the highest estimate for total infections since late April, but is still well below the record high of 4.9 million recorded in late March at the peak of the Omicron BA.2 wave.
ONS data shows that in the summer of 2020, less than 0.1 percent of the population in England tested positive, while in 2021 it was 1.57 percent. Now it's around 4 percent.
The latest report from Covid analysis app ZOE shows that a sore throat is now the most commonly reported symptom.
The ZOE Covid Study App allows infected people to report their symptoms while suffering from the virus.
The data provided is then analyzed by researchers at King's College London, who are tracking infections across the UK, identifying who is most at risk and where high-risk areas are.
Almost 58 percent of all Covid patients who used the app reported suffering from a sore throat before returning positive tests.
The second most common symptoms reported were headache, nasal congestion and coughing.
Professor Tim Spector, who leads the Zoe Health Study app, said: "Covid is still widespread among the population. ZOE Health Survey data shows there were over 350,000 daily Covid cases this week – a new record for the UK.
"So much so that at the moment, if you have any cold symptoms, you are almost twice as likely to be dealing with Covid than the common cold.
"Even if people have had an infection in the past and are fully vaccinated, people still catch it.
"Although we all want to take advantage of the good weather, people need to decide for themselves whether it's worth the risk to go to big events, work in the office or use busy public transport."
Sarah Crofts, ONS head of analytical results for the Covid-19 infection survey, said: "Across the UK we have seen a steady increase of over half a million infections, probably driven by the growth of BA.4 and BA.5 -variants is caused.
"This increase can be seen across all age groups, countries and regions in England.
"We will continue to monitor the data closely to see if this growth continues in the coming weeks."
The virus remains most prevalent in Scotland, where an estimated 312,800 people contracted Covid-19 last week, or one in 17. That's up from 250,700 the previous week, or one in 20.
In England, 2.1 million people were likely to have had the virus last week, down from 1.8 million, which is about one in 25.
In Wales, the number of infections has risen from 106,000 or one in 30 to 149,700 or one in 20. And in Northern Ireland there are 98,400 people with the virus, or one in 19.
dr Mary Ramsay, Director of Clinical Programs at the UK Health Security Agency (UKHSA), said: "We continue to see an increase in Covid-19 data, with increases in case numbers and hospitalizations among people aged 65 and over, with outbreaks in care homes.
"We are also now seeing an increase in ICU admissions in older age groups.
"Vaccination remains the best defense against serious illness and hospitalization. Covid-19 has not gone away and we should all remember to maintain good hand and respiratory hygiene. It also makes sense to wear a face mask in crowded, enclosed spaces."